e-Waste We Accept
---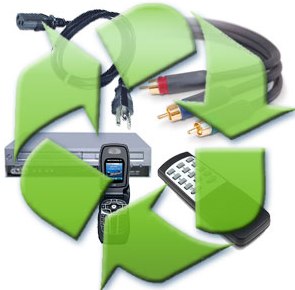 We are connected to some of the most technologically advanced mechanical processing centres in Australia and around the world and can help recycle a variety of E-Waste. eWaste Recycling can provide you with cost-effective recovery and recycling solutions for your company to suit your organisational needs.
We process electrical and electronic equipment according to Australian legislative requirements. We aim to reduce the disposal of electronic waste in landfills or by incineration.
E-Waste includes any product that can be plugged in with an electric cord or operated by battery.
E-waste we can help you recycle
Information and communications technology

Computers, all computer accessories, monitors, hard drives, key boards, printed circuit board, servers, photocopiers, All Printers (inkjet and laser), facsimile machines, old telephones, mobile phones, smart phones, CD's/DVD's
Entertainment electronics

TV's, hi-fi equipment, speakers and amplifiers, radios, cameras, electric guitars, and DVD players
Large home appliances
Washing machines, electric cookers, dishwashers
Medium home appliances
Microwave ovens, electric fans and electric radiators
Small home appliances
Hair dryers, hair straighteners, irons, vacuum cleaners, toasters and coffee machines
Cooling and freezing appliances
Household and commercial refrigerators, freezers and air conditioning units
Lighting devices
Fluorescent lights, desk lamps and light globes
Sport and leisure equipment
Toys like remote control racing cars and electric trains, video game consoles fitness machines, coin slot machines
Electrical and electronic tools
Drills, electric saws, lawnmowers, nail guns, sewing machines
Monitoring and control instruments
Smoke detectors and thermostats
All power cords & cables, e.g. networking cables
Together we can stop landfill expansion and enhance your organisation's environmental reputation with responsible recycling.
Get in touch today. Email or call us on (03) 9357 3433 to find out more about electronic reuse and recycling services.