Business E-Waste Solutions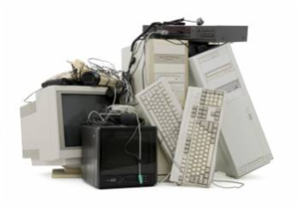 Business e-Waste Recycling is a single-source solution to all your business e-waste disposal requirements. We begin by understanding how your business operates and what you require.
Based on your company's requirements, we tailor a customized solution to enable your business to be a green business.
Comprehensive asset recovery service
We understand that you need to constantly upgrade and replace your computer systems, phone systems, copiers and faxes. For eWaste Recycling, no job is too BIG.
Give us a call, and we will clear out all your obsolete electronic equipment, to make room for newer, smarter technology.
Secure data destruction services
Discarded or donated computers, copiers and media disks are not trash but are archives of confidential data, which is a source of information for identity thieves. Many Australian recycling companies export electronic waste overseas.
Identity thieves are able to access hundreds of hard drives and media disks and obtain bank details, credit card details, online passwords, passport photos and addresses to create new identities, credit cards or take out loans and empty bank accounts.
Remember, deleting data does not remove it completely. In compliance with Australian government's accredited method, we physically destroy your IT assets through a granulation procedure that grinds solid hardware to bits that are three millimetres in diameter. This makes any chance of data recovery impossible.
Our advanced Data Security Services
For your peace of mind, eWaste Recycling offers several data destruction services
☑   Hard disk destruction services at your business site
☑   Hard disk destruction services at eWaste Recycling Centres
☑   Drop-in hard disk destruction
☑   Photocopier data destruction
☑   Complete media destruction
Our goal is to provide business e-waste recycling solutions for all your requirements. Call us today on (03) 9357 3433 or email us to arrange your business e-Waste collection.