Corporate E-Waste Solutions
---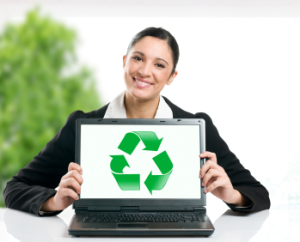 In today's corporate world, the use of advanced technological equipment is directly related to a company's success.
Innovation in electronics industry has increased the pace of technological upgrades, and this has accelerated the generation of unwanted electronics in offices.
"We don't want to send our out-dated computers and electronic equipment to landfills. But what can we do with our e-waste?"
Many companies tend to fill up office basements and storage rooms with electronic waste, resulting in stockpiling and holding back recyclable components and valuable non-renewable resources such as aluminium, steel, gold and silver out of the recycling stream.
This adversely affects the economy and the environment.
Secure E-Waste Data destruction
eWaste Recycling offers a secure solution for your corporate electronic waste. Our secure E-Waste recycling process involves thorough data destruction of hard drives. This is performed by a method that is accredited by the Australian government—a granulation procedure that grinds solid hardware to bits that are three millimetres in diameter which makes any chance of data recovery impossible.
Asset Recovery & equipment purchase solutions
Maximise the value of all your e-waste through effective reuse or divestment. If you have computer equipment that you wish to make available for re-use, we can organise to evaluate the equipment, or either work with our commercial partners to arrange a suitable re-use solution or offer you an equipment buyout.
It's extremely crucial that the corporate sector leads the way and sets an example for others to follow as responsible corporate citizens in disposing electronic waste.
Call us today on (03) 9357 3433 or email for a FREE quote. eWaste Recycling will reach your site, collect the e-waste and deliver it to the appropriate recycling facilities, where  up to 98% of it will be recycled for future use.